An exclusive Inside Housing survey has uncovered a significant number of stories about sexual harassment in the workplace. Jess McCabe reports
The #MeToo movement reverberated around the world. It gained momentum last year as a Twitter hashtag taken up by Hollywood actors to talk about rape and sexual abuse and harassment in the film industry, and quickly spread.
People all over the world – especially women – started sharing their own experiences, or just the hashtag 'MeToo' to indicate: yes, it had happened to them. No longer was this something covered up or excused; instead, people were speaking up.
In housing's corner of the planet, though, it could easily seem as though #MeToo never happened.
"In housing's corner of the planet, though, it could easily seem as though #MeToo never happened."
We wanted to find out if this was the whole story – was housing really immune? Given the scale of revelations from around the world, it seemed unlikely. Even our own staff had experienced incidents at industry events, and we had heard occasional stories told off the record.
So we set out to investigate, conducting a major survey of people working in the sector about their experiences not just with sexual harassment, but with other types of discrimination and harassment – be that racist, homophobic or sexist.
The results of that broader piece of research will be published in two weeks. However, of the 225 housing professionals to fill out our survey, a significant number came to tell us about sexual harassment and inappropriate sexual behaviour that they had experienced or witnessed in their housing jobs.
You can look at the results in terms of numbers (see box below: By the numbers). And they are shocking – 23% had been on the receiving end of an unwanted sexual advance at work; and 57% had heard inappropriate sexual comments at work, whether directed at themselves or someone else.
"There were so many stories, we couldn't possibly include them all here."
But the real story here is in the individual truth-telling, and what it means for the sector. There were so many stories, we couldn't possibly include them all here.
This selection will give a sense of what is happening in the offices of housing associations, councils, charities and other housing bodies all over the country.
In response to our question about inappropriate sexual comments at work, one typical response was: "Too numerous to mention and despite raising with individuals, still continues today."
Another respondent said: "I have been subject to unwanted sexual advances from my manager who is a director. I didn't feel I could say anything because of his position and given the redundancies we've had I was worried for my job as complaining would make me a target."
Another told of "regular inappropriate comments about how 'fit and sexy' I apparently look and 'what I would do to you', from a line manager or a senior manager".
BY THE NUMBERS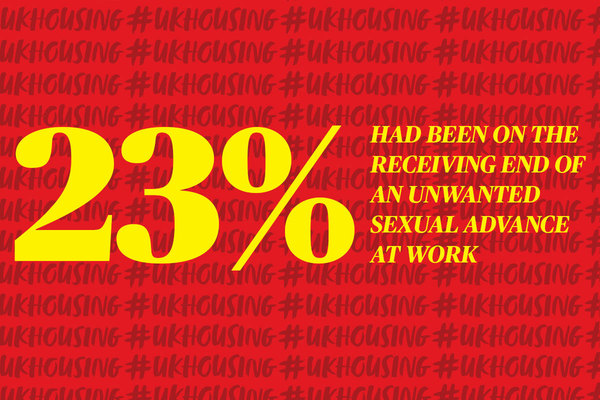 23% of 134 respondents who answered the question had experienced unwanted sexual advances at work.
More than half of these advances were made by a colleague, but a significant percentage came from a line manager, senior management, a resident, or someone from an external organisation.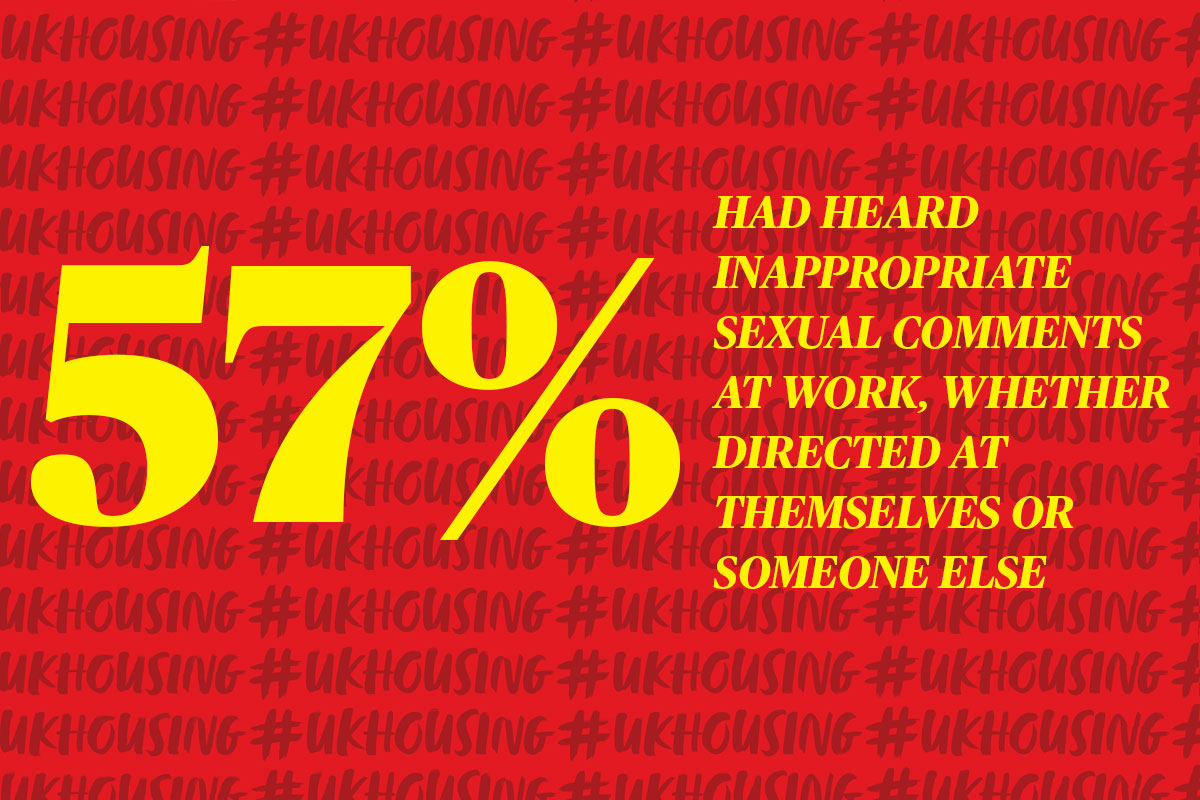 57% of 129 respondents who answered the question told us they had heard inappropriate sexual comments at work, whether directed at them or not.
Again, colleagues were overwhelmingly cited as the ones making such comments (72%), but 36% said they had heard such comments from a line manager, and the same percentage from senior management of their organisation.
(The percentages do not add up to 100% because individuals often reported comments made by multiple people.)
The vast majority of respondents to tell us about their experiences were women, and in many cases directly linked to archaic sexist attitudes in the workplace culture.
A respondent who reported inappropriate sexual conduct told us: "My organisation increasingly has a 'macho' culture where women's voices are not heard and our contribution is dismissed."
A small number of men did report an issue – which they often linked to racist attitudes towards them from colleagues or managers. Housing professionals who had directly experienced other forms of discrimination tended to say that their race or sexuality was a factor in why they had been targeted.
"A small number of men did report an issue – which they often linked to racist attitudes towards them from colleagues or managers."
One person explained, after she was verbally harassed by a colleague: "I was shocked and found it hard to respond. I brushed it off… because I didn't want to draw attention to myself, nor do I have the energy to fight the many battles I fight in work as a black woman."
WHAT IS SEXUAL HARASSMENT?
Sexual harassment is defined in the Equality Act 2010 as: "Unwanted conduct of a sexual nature which has the purpose or effect of violating someone's dignity, or creating an intimidating, hostile, degrading, humiliating or offensive environment for them."
Examples of this include indecent or suggestive remarks, unwanted touching, requests or demands for sex and the dissemination of pornography.
But she added: "I feel all these comments and actions would probably not be so frequent if I wasn't black."
Many people told us they did not report incidents due to the culture of the workplace – or because senior managers were responsible.
"A camera was found under my team's desk. We reported this but the police were not involved. We were not happy with the response to the incident so it's put us off reporting anything else," one respondent told us.
Respondents also told us about the toll these experiences took on them personally, and their careers.
THE SECTOR'S REACTION
Senior sector leaders told Inside Housing that the results of our survey were shocking – and yet not shocking.
As Sasha Deepwell, chief executive of Irwell Valley, said, it is easy to get the impression that this is a non-issue as it is not widely talked about and "because of the years of having equality awareness training, action plans, and because of the reputation of the sector for being such good employers". But, she added, the survey results showed that "clearly we've got as much of an issue as many sectors have".
Alison Inman, president of the Chartered Institute of Housing, also said the sector needs to do more to challenge the culture – and that it should start at the top. "I've known chief executives who walk through the organisation and talk to every pretty girl along the way," she noted. "I don't think organisations are really clear on what to do if something happens to you," she added – particularly if the incident involves senior managers.
"I've dismissed chief executives for sexual harassment and dealt with a number of senior managers for sexual harassment and racial discrimination," said one former housing association chair, adding that perhaps "I've not gone as public with these cases as I should have done".
Simon Nunn, executive director of member services at the National Housing Federation, said: "No one should experience sexual harassment, and especially not at work. These findings show that more needs to be done in the housing sector to tackle this issue and ensure people feel empowered to make a complaint if it does. I am sure housing associations will be very concerned by these findings and will want to take action, as they are committed to being the best possible employers.
"The National Housing Federation will facilitate conversations across the sector to discuss these results and what concrete action could be taken to address the problem at upcoming meetings and forums for housing association chief executives, senior staff and HR teams."
Tom Murtha, founder member of Social Housing Under Threat and a former housing association chief executive, said: "This issue has been ignored; it's been brushed under the carpet. It's time the sector came out and the sector said 'no more'. We've got to be very clear about our whistle-blowing policies. If someone blows the whistle and no action is taken, they won't blow the whistle again."
One female housing professional told us that she had been sexually assaulted by a much older man at work, about 10 years ago. "I reported this to my line manager who clearly didn't believe me. He did keep more of an eye on me though, and without my knowledge was watching me on CCTV when the man tried to do it again, and intervened.
"As far as I know, nothing was reported to HR, and the perpetrator was taken out for lunch by the line manager. I was urged not to take it further as the man was 'going through a tough time with his wife'. I was young and unassertive so didn't – but I've never forgotten how angry this made me, and how unimportant this made me feel."
As one respondent put it, she was "not given any responsibility. Not listened to. All ideas put down. Treated as an idiot. My experiences not taken into consideration, and continually asked out for candlelit dinners, stroked from the back, inappropriate questions… comments on what I was wearing etc".
"The person responsible was in most cases a man and most often a colleague or manager, but a small number of cases did involve residents behaving inappropriately to staff."
The person responsible was in most cases a man and most often a colleague or manager, but a small number of cases did involve residents behaving inappropriately to staff.
IN THEIR OWN WORDS
"[A] line manager pressed himself up against me from behind."
"I have had a younger colleague tell me an older man touched her chest at a work event. [This was in] 2015."
"Since I joined the company in 2016, I have endured constant sexual comments from female colleagues. I have been whistled at, told I'll get to the top because of my looks, when I have been praised 'it's because she fancies you', she likes your type (black men) and many more comments. As a young man it is difficult to raise issues like this as we are expected to laugh it off. It is abnormal for a man to make these kinds of complaints as they are commonly the opposite way round."
"I was told that a board presentation that I delivered was well received because I wore a 'short skirt and heels', implying that the content was rubbish. I have had my hair pulled at a work social event and when I challenged the person, was told I had 'nice hair'. Both incidents involved the same senior manager, who was also implicated in a rather nasty sexual harassment and bullying case brought by a very junior member of staff. All incidents [happened] within [the] past two years."
"A few years ago a colleague asked me if I 'swallow' in front of the whole office. He was around 20 years older than me – this was not followed up by management."
"Three years ago, [a] colleague told me on a number of occasions he was a male sexual predator and we should sleep together, [and] I was asked to protect a very attractive young employee from [a] senior manager."
"There are so many incidents over time and you become desensitised to them. A CEO rearranging himself in front of me. Being taken out for lunch for what I thought [were] professional reasons and then being hit on. Being asked if I wanted to go to bed with someone. Dealing with a number of senior male managers having affairs with younger, more junior colleagues – an open secret. Sexualised workplaces where sleeping with colleagues was the norm."
"A couple of years ago, [a] male housing officer made sexually inappropriate comments about a temp. When I challenged him I was accused of being prude and colleagues around laughed at me. Afterwards they thanked me privately but none were brave enough to challenge him or support me."
"Sexual harassment including inappropriate, invasive touching and sexual comments from [a] manager, colleagues and from contractors from more than two years ago through to six months ago."
Although our survey was focused on the experiences of people working in housing, a number of respondents also brought up worrying issues with how housing staff behave around tenants. One person mentioned that a young tenant had shown her WhatsApp messages from a male staff member asking for dates. "She was too scared to complain," the survey respondent told us.
"A number of respondents also brought up worrying issues with how housing staff behave around tenants."
Numerous stories raise questions about how social landlords are handling issues reported by their own staff but involving other organisations. One respondent was sexually assaulted by a contractor at their work leaving party. Others reported being inappropriately touched by contractors.
Some stories date back decades – but still have an impact on those people today. And others happened as recently as two weeks prior to the individual filling in Inside Housing's survey. In the section above we let the housing professionals who responded to our survey tell their stories in their own words.